Matt Hall
wind and marine renewable energy
In research, I'm interested in tackling engineering challenges to energy sustainability through the use of innovative modelling, testing, and design optimization techniques. Current research activities are in wind and marine renewable energy, and in sustainable energy systems.
Wind and Marine Renewable Energy
---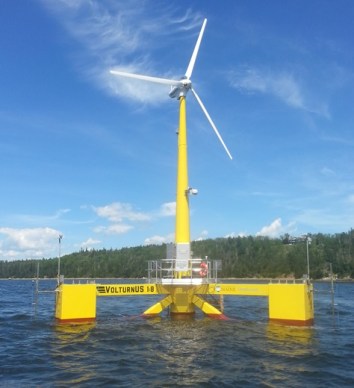 Much of my research background is in floating offshore wind turbines, a nascent technology that is both very promising economically and very challenging technically. Putting wind turbines on floating support structures can allow wind energy to be harvested over deeper waters, dramatically expanding the feasible wind resource in North America and around the world. My research has sought to contribute along several lines: design optimization techniques, better simulation tools, and more versatile testing capabilities.
This is an area of research I remain active in, continuing several projects, and identifying applications in other offshore renewable energy technologies such as wave and tidal power, as well as to offshore structures in general.
Hybrid Modelling (Hardware-in-the-loop Testing) of Floating Structures
An ongoing research interest is hybrid modelling — combining simulations and experiments to better model floating wind turbines and other marine structures. I developed a real-time coupling of numerical and physical models, which can be used to provide a more versatile representation of aerodynamic forces when testing floating wind turbine designs at small scale in wave basins. In 1:50-scale tests at the University of Maine, we demonstrated than an actuation system coupled with a real-time wind turbine simulation could provide more true-to-scale aerodynamic loads than conventional methods. We will be refining the approach in the forthcoming wave tank at UPEI.
Innovative Floating Wind Farm Design
We have a new floating wind turbine design research project initiated, looking at new opportunities for cost savings in floating wind farms by shared support structure elements.
Mooring Modeling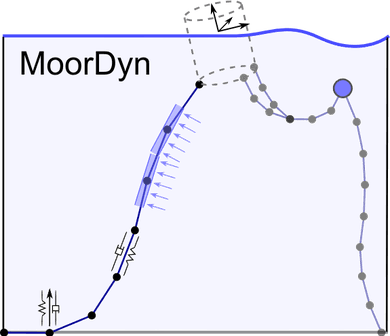 Another research area is mooring dynamics modelling — specifically, developing the MoorDyn model and using it for new applications. MoorDyn is available for stand-alone use and also is part of several existing offshore renewable energy simulation tools.
Sustainable Energy Systems
---
The second area of current research focus is in sustainable energy systems — studying at a higher level the combination of different energy sources along with energy needs, social stances, and environmental constraints that can inform decisions about what future opportunities for a more sustainable energy future could look like. This involves looking at energy resources and energy consumption, applying techno-economic optimization tools, and through collaboration factoring in aspects from other disciplines that play a role in determining the feasibility and success of different energy possibilities.
A recent paper in this area, co-authored with Dr. Andrew Swingler, is "Initial Perspective on a 100% Renewable Electricity Supply for Prince Edward Island," in International Journal of Environmental Studies, 2017.