GRADUATE STUDENT OPENINGS: Multiple MSc openings for funded projects in energy systems and wind/marine renewable energy research.
New paper: Comparison of Seabed Friction Formulations in a Lumped-Mass Mooring Model presented by Kellen Devries at ASME International Offshore Wind Technical Conference.
New paper: Comparison of Pilot-Scale Floating Offshore Wind Farms with Shared Moorings with Patrick Connolly in Ocean Engineering.
New paper: Initial comparison of lithium battery and high-temperature thermal-turbine electricity storage for 100% wind and solar electricity supply on Prince Edward Island with Andrew Swingler in Energies.
Overview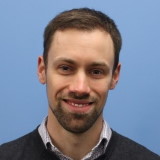 ---
I'm an assistant professor in the UPEI Faculty of Sustainable Design Engineering. My research focus is at the intersection of mechanical engineering and energy sustainability. My graduate work was in design, modelling, and testing of floating offshore wind turbines. Ongoing research interests range from wind turbine, floating platform, and mooring modelling to design optimization and local renewable energy integration. To learn more about my research group, see our lab website.
I'm also cooperating faculty (adjunct assistant professor) at the University of Maine Advanced Structures and Composites Center.
Teaching
Fall 2018:
ENGN 4210 Facilitated Study and Experimental Practice – a course to provide key model-based design and testing approaches to our fourth year design groups and to enhance their project-driven independent learning.
ENGN 4410 Macro Energy Systems – a course on energy at the system level – developing a techno-economic understanding of energy sources, services, and everything in between.
Winter 2019:
ENGN 3450 Wind and Water Power – a crash course on wind- and water-based renewable energy technologies including hydro, tidal, wind, and wave power.
Previous:
ENGN 121/1210 Engineering Communications
ENGN 347 Renewable Energy Power Systems
ENGN 3450 Wind and Water Power
ENGN 385 Engineering Applications of Numerical Methods
ENGN 4410 Macro Energy Systems
Research Activities
Current research topics center or two areas: wind and marine renewable energy, and energy systems. The former involves improving techniques for designing, modelling, and testing renewable energy devices. The latter is about simulating different scenarios of energy flows from supply to demand to find ways of reducing emissions at the system level. See more at my
research group website
.
Some highlights of current activities include